Sepsis a life-threatening, extreme immune response to infection. Without early detection and appropriate treatment, sepsis can rapidly lead to tissue damage, organ failure, and death. More than 1 million Americans develop sepsis each year, and 250,000 will die. Sepsis most often occurs in people over the age of 65, infants less than one year of age, and those who have other chronic diseases or weakened immune systems. It is also one of the most expensive conditions to treat in U.S. hospitals.
Takeaways from our research on sepsis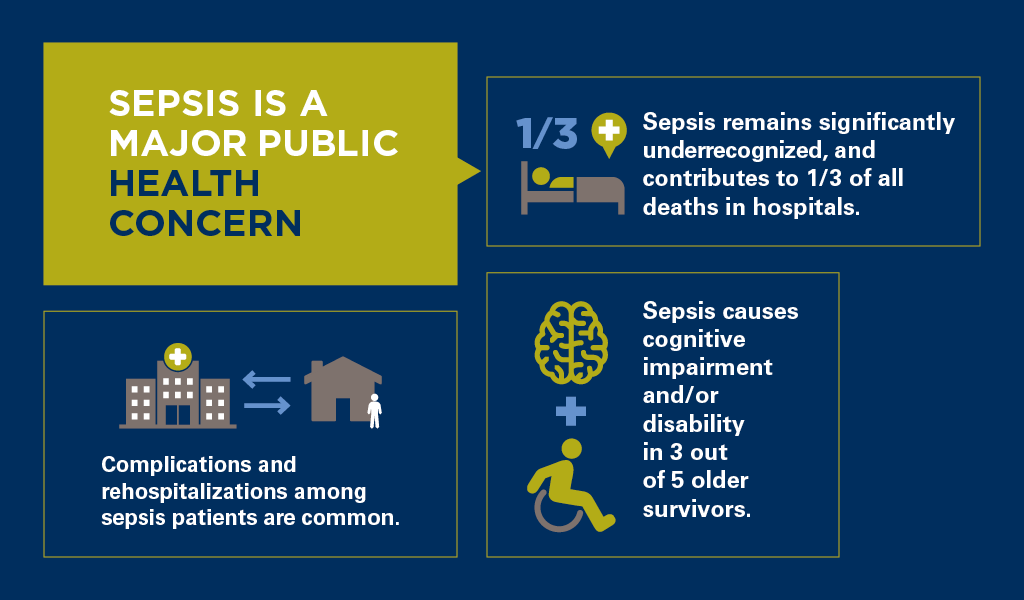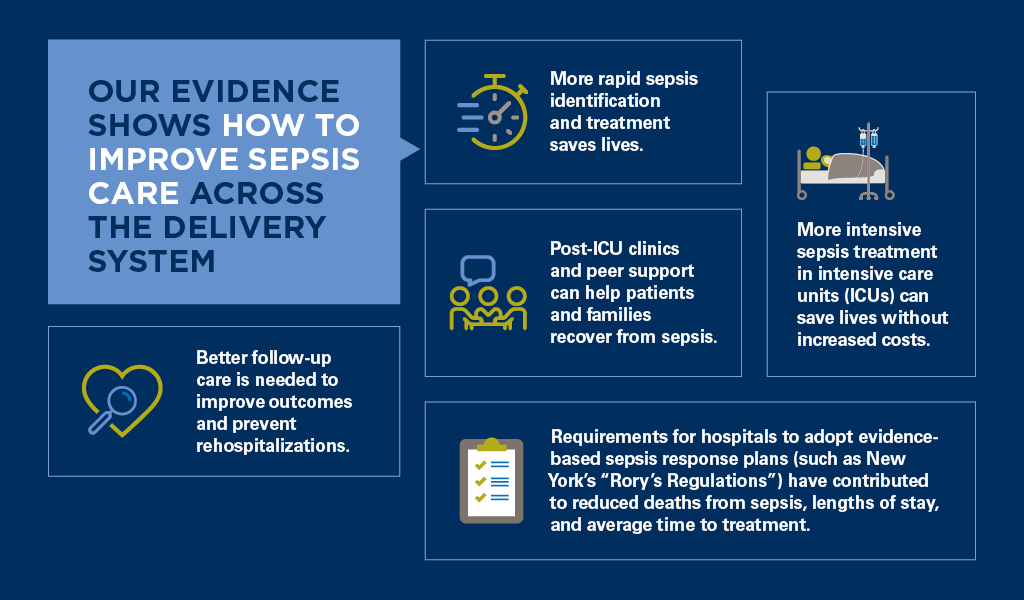 For more information, please contact Eileen Kostanecki, IHPI's Director of Policy Engagement & External Relations, at ekostan@umich.edu or 202-554-0578.
Sepsis care studies by IHPI members
Sepsis care studies by IHPI members
Mortality changes associated with mandated public reporting for sepsis: the results of the New York state initiative.
Levy MM, Gesten FC, Phillips GS, Terry KM, Seymour CW, Prescott HC, Friedrich M, Iwashyna TJ, Osborn T, Lemeshow S.
Am J Respir Crit Care Med. 2018 Sep 7.
PMID: 30189749
doi:10.1164/rccm.201712-2545OC
Reporting of sepsis cases for performance measurement versus for reimbursement in New York state.
Prescott HC, Cope TM, Gesten FC, Ledneva TA, Friedrich ME, Iwashyna TJ, Osborn TM, Seymour CW, Levy MM.
Crit Care Med. 2018 May;46(5):666–673.
PMID: 29406420
doi:10.1097/CCM.0000000000003005
Enhancing recovery from sepsis: a review.
Prescott HC, Angus DC.
JAMA. 2018 Jan 2;319(1):62–75.
PMID: 29297082
doi:10.1001/jama.2017.17687
Postsepsis morbidity.
Prescott HC, Angus DC.
JAMA. 2018 Jan 2;319(1):91.
PMID: 29297079
doi:10.1001/jama.2017.19809
Increased healthcare facility use in veterans surviving sepsis hospitalization.
DeMerle KM, Vincent BM, Iwashyna TJ, Prescott HC.
J Crit Care. 2017 Dec;42:59–64.
PMID: 28688238
doi:10.1016/j.jcrc.2017.06.026
Incidence and trends of sepsis in US hospitals using clinical vs claims data, 2009–2014.
Rhee C, Dantes R, Epstein L, Murphy DJ, Seymour CW, Iwashyna TJ, Kadri SS, Angus DC, Danner RL, Fiore AE, Jernigan JA, Martin GS, Septimus E, Warren DK, Karcz A, Chan C, Menchaca JT, Wang R, Gruber S, Klompas M; CDC Prevention Epicenter Program.
JAMA. 2017 Oct 3;318(13):1241–9.
PMID: 28903154
doi:10.1001/jama.2017.13836
Time to treatment and mortality during mandated emergency care for sepsis.
Seymour CW, Gesten F, Prescott HC, Friedrich ME, Iwashyna TJ, Phillips GS, Lemeshow S, Osborn T, Terry KM, Levy MM.
N Engl J Med. 2017 Jun 8;376(23):2235–44.
PMID: 28528569
doi:10.1056/NEJMoa1703058
Late mortality after sepsis: propensity matched cohort study.
Prescott HC, Osterholzer JJ, Langa KM, Angus DC, Iwashyna TJ.
BMJ. 2016 May 17;353:i2375.
PMID: 27189000
doi:/10.1136/bmj.i2375
Peer support as a novel strategy to mitigate post-intensive care syndrome.
Mikkelsen ME, Jackson JC, Hopkins RO, Thompson C, Andrews A, Netzer G, Bates DM, Bunnell AE, Christie LM, Greenberg SB, Lamas DJ, Sevin CM, Weinhouse G, Iwashyna TJ.
AACN Adv Crit Care. 2016 Apr–Jun;27(2):221–9.
PMID: 27153311
doi:10.4037/aacnacc2016667
Variation in the contents of sepsis bundles and quality measures: A systematic review.
Kramer RD, Cooke CR, Liu V, Miller RR 3rd, Iwashyna TJ.
Ann Am Thorac Soc. 2015 Nov;12(11):1676–84.
PMID: 26397842
doi:10.1513/AnnalsATS.201503-163BC
Association of intensive care unit admission with mortality among older patients with pneumonia.
Valley TS, Sjoding MW, Ryan AM, Iwashyna TJ, Cooke CR.
JAMA. 2015 Sep 22–29;314(12):1272–9.
PMID: 26393850
doi:10.1001/jama.2015.11068
Readmission diagnoses after hospitalization for severe sepsis and other acute medical conditions.
Prescott HC, Langa KM, Iwashyna TJ.
JAMA. 2015 Mar 10;313(10):1055–7.
PMID: 25756444
doi:10.1001/jama.2015.1410
Sepsis mandates: improving inpatient care while advancing quality improvement.
Cooke CR, Iwashyna TJ.
JAMA. 2014 Oct 8;312(14):1397–8.
PMID: 25291572
doi:10.1001/jama.2014.11350
Hospital deaths in patients with sepsis from 2 independent cohorts.
Liu V, Escobar GJ, Greene JD, Soule J, Whippy A, Angus DC, Iwashyna TJ.
JAMA. 2014 Jul 2;312(1):90–2.
PMID: 24838355
doi:10.1001/jama.2014.5804
Increased 1-year healthcare use in survivors of severe sepsis.
Prescott HC, Langa KM, Liu V, Escobar GJ, Iwashyna TJ.
Am J Respir Crit Care Med. 2014 Jul 1;190(1):62–9.
PMID: 24872085
doi:10.1164/rccm.201403-0471OC
Long-term cognitive impairment and functional disability among survivors of severe sepsis.
Iwashyna TJ, Ely EW, Smith DM, Langa KM.
JAMA. 2010 Oct 27;304(16):1787–94.
PMID: 20978258
doi:10.1001/jama.2010.1553
IHPI MEMBERS WHOSE RESEARCH IS FEATURED IN THIS BRIEF