IHPI's ethos is one of mentoring and sharing, building one another up, and giving back; this culture drives the way we support all of our members - from those early in their careers to more experienced investigators and their teams - to do imaginative, boundary-pushing work.
We recognize that readying for the healthcare challenges of the future requires investing in our researchers, trainees, and students now, by preparing them with the skills, knowledge, and guidance they need to effect meaningful change both today and tomorrow. Since its inception, IHPI has steadily grown its robust portfolio of education, training, and professional development programs for health services researchers at all career levels—all supported by a vibrant community of dedicated mentors and collaborators.
From the beginning, IHPI has prioritized training and career development opportunities for our early career faculty, who represent about one third of our faculty membership.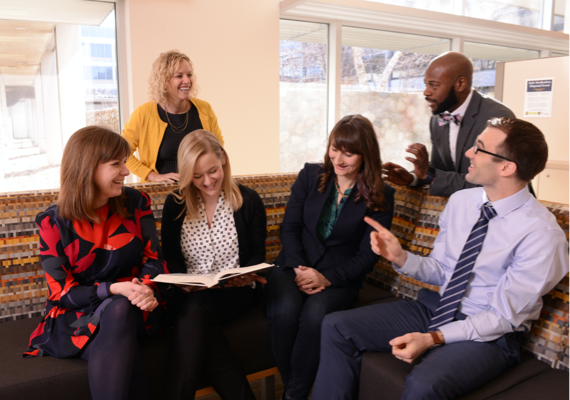 National Clinician Scholars Program
In 2017, IHPI and U-M became one of four founding sites (along with UCLA, the University of Pennsylvania, and Yale University) for the prestigious National Clinician Scholars Program (NCSP), and more recently the program has expanded to include Duke University and UC-San Francisco. The NCSP succeeded the highly regarded Robert Wood Johnson Foundation Clinical Scholars Program, which U-M had hosted for 22 years. IHPI's Clinician Scholars Program offers immersive research and leadership training for physicians, nurses, pharmacists, dentists, social workers, and other health professionals focused on eliminating health disparities, inventing new models of care, and achieving higher quality healthcare at lower costs. Each year our program adds new members to the list of notable alumni - including many current U-M faculty members - whose innovations, collaborations, and leadership have put scholarship into action to help shape improvements in U.S. health and healthcare.
Masters in Health and Health Care Research
Also in 2017, IHPI assumed the oversight of the long-running Masters in Health and Health Care Research program at U-M, which equips clinicians with expertise in quantitative and qualitative research techniques and an in-depth understanding of U.S. healthcare delivery, financing, and policy. Since 2017, more than 50 individuals have completed the program. And the three-year TACTICAL program, launched in 2018, provides training in implementing research findings into clinical care for critically ill patients.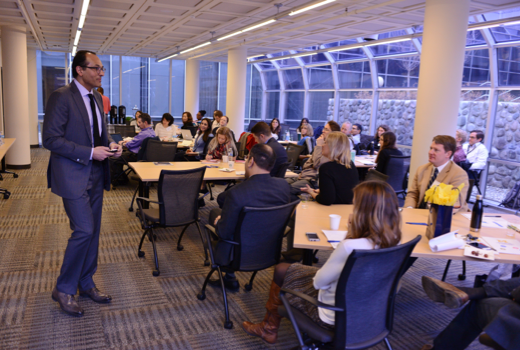 Early Career Faculty Advisory Council
IHPI's Early Career Faculty Advisory Council, established in 2016, offers faculty a platform to share strategies to thrive while juggling research, teaching, clinical, and personal responsibilities, and to bring ideas to life for promoting academic advancement. The council created the concept for IHPI's Early Career Development Workshop, held annually since 2018. Another idea developed by the council was the Emerging Scholars Program, which facilitates an annual "exchange" of select IHPI early career faculty with faculty peers from health policy institutes at the University of Pennsylvania and University of California San Francisco. Since 2018, this program has provided these scholars the opportunity to present emerging research and expand their professional networks by visiting one another's campuses.
Student opportunities
Those who are considering or just entering the health services research field are also our priority. For undergraduate and graduate students working over the summer on research projects with IHPI faculty, we have hosted weekly lunch-and-learn roundtables (since 2015) and accompanying skill-building sessions (since 2016) during May, June, and July, offering hundreds of students practical opportunities to enhance professional and educational development and learn more about the career experiences of health services researchers.

IHPI's interdisciplinary HSR summer fellowship program, which pairs masters- and doctoral-level students with faculty from different academic departments, has launched 100+ projects in its five-year history, tackling issues such as managing drug shortages across Michigan health systems, determining causes for patient wait times, and improving computer simulation methods for training surgeons.

Within the U-M Medical School, the Health Policy Path of Excellence (PoE) prepares students to think broadly about how their work as future clinicians fits within the larger framework of healthcare delivery and the policies that shape it. Four IHPI members now serve as lead faculty advisors for the Health Policy PoE, established in 2015, with many other IHPI faculty also supporting the seven other paths developed for medical students to gain more in-depth knowledge and experiences in a field of interest.