At its core, IHPI can be defined as a vibrant community examining how healthcare works and how it can be improved, and engaging with policymakers to inform change. Our work is powered by the many innovative minds that make IHPI a distinctive driver of collaboration and discovery.
In our first decade, IHPI has grown to become the nation's largest university-based group of health services researchers, working to solve complex and timely healthcare challenges whose solutions require collaboration across diverse fields and disciplines. IHPI unites 675+ faculty across 15 U-M schools and colleges on the Ann Arbor campus and several units on the Flint and Dearborn campuses, and more than two dozen affiliated health services research-focused U-M centers and programs, strategically aligning broad expertise to respond to vital questions within healthcare policy and practice.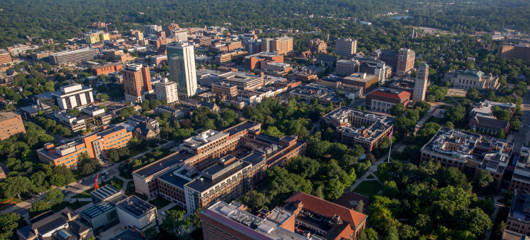 We have assembled a federation uniting networks of healthcare researchers across diverse fields, from patient safety to mental health to engineering, who share common goals and deep motivation to improve health outcomes. We have built an infrastructure to help our researchers and their teams quickly realign to focus on emerging and urgent priorities, whether that's antibiotic resistance in hospitals, rising deaths from prescription opioids, consumer concerns when choosing health insurance plans, how to deliver remote healthcare during a pandemic, or organizing efficient and equitable COVID-19 testing and vaccine distribution. This is team science at its best.
Our footprint
Our administrative home at U-M's North Campus Research Complex (NCRC) offers a centralized venue to bring researchers together across campuses and connect them to robust resources. Our footprint within NCRC provides nearly 90,000 square feet where more than 600 IHPI members, staff, and trainees now have dedicated work space. Faculty and staff from the Department of Veterans Affairs' Center for Clinical Management Research (CCMR), one of the longest-running VA centers for health services research, have also been co-housed in VA-controlled space within the IHPI footprint since 2013. This nexus between IHPI and CCMR has provided valuable collaborative opportunities and further strengthened the extensive ties between U-M and the VA.
IHPI's physical environment also provides cutting-edge information-sharing technologies, flexible meeting and working areas, and an open-door culture, which facilitates multidisciplinary interactions and allows our researchers to convene and collaborate more effectively. When COVID-19 forced transitions to remote working and virtual communication, the connections previously forged among our researchers and their teams provided a critical foundation for collaborations to continue flourishing throughout the pandemic and beyond, allowing us to maintain our focus on new and future challenges.