The Center for Value-Based Insurance Design aims to improve health outcomes and contain costs by aligning stakeholders around value.
Conceptualized by University of Michigan faculty in 2005, Value-Based Insurance Design (V-BID) is built on the principle of lowering or removing financial barriers to essential, high-value clinical services.
V-BID plans align patients' out-of-pocket costs, such as copayments, with the value of services. These innovative products are designed with the tenets of " clinical nuance " in mind.
These tenets recognize that 1) medical services differ in the amount of health produced, and 2) the clinical benefit derived from a specific service depends on the consumer using it, as well as when, where, and by whom the service is provided.
Initiative Spotlight: V-BID in Medicare Advantage
In 2017, the Centers for Medicare and Medicaid Services launched an MA V-BID model test to assess the utility of structuring consumer cost-sharing and health plan elements to encourage the use of high-value clinical services and providers. Most recently, President Trump signed the Bipartisan Budget Act of 2018, which incorporates the CHRONIC Care Act that expands the CMMI Medicare Advantage Value-Based Insurance Design Model to all 50 states.
Beyond the model, a new CMS Medicare Advantage Proposed Rule recommends greater flexibility around the Medicare Advantage uniformity requirement that originally deterred MA plans from offering clinically nuanced benefits. This change would allow for the implementation of V-BID principles throughout the MA program. V-BID principles can be used to create MA plan designs that are better aligned with value.
Encouraging the use of high-value services and providers while discouraging those with low value will decrease cost-related non-adherence, reduce health care disparities, and improve the efficiency of health care spending without compromising quality. The use of clinical nuance to set out-of-pocket costs for Medicare beneficiaries would have significant positive impacts, providing consumers with better access to quality services and resulting in a healthier population, while containing the growth of health care expenditures.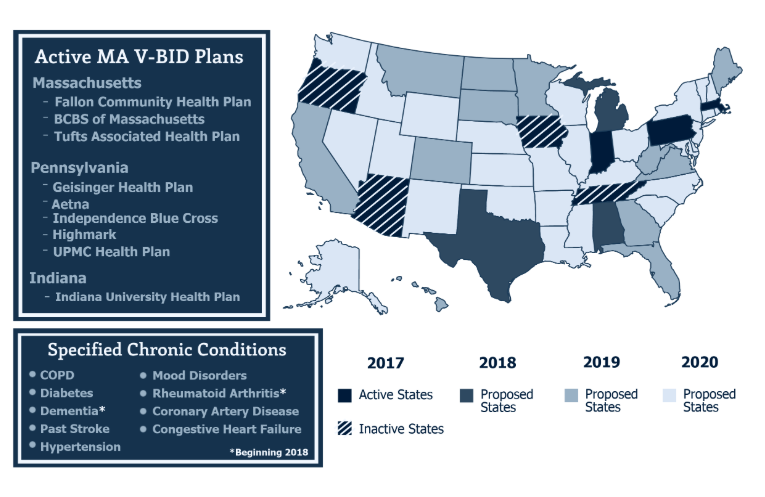 Leadership
Mark Fendrick, M.D.
Contact Information

North Campus Research Complex
2800 Plymouth Road, Bldg 16
Floor 4, 016-400S-25
Ann Arbor, MI 48109-2800

734-615-9635