Preventive medicine, comparative-effectiveness research, infection prevention
Found in
Institute for Healthcare Policy & Innovation
An analysis of rotavirus vaccine uptake among infants in the United States finds that coverage rates vary markedly by geographic region, with pockets of undervaccination in many states.
Rotavirus vaccination rates were generally higher in eastern states, the study found, although some Northeast states had relatively low coverage. Many of the western states had some pockets of low vaccine coverage. Among all states, Alaska had considerably lower vaccination rates.
Looking more closely at the local level, rotavirus vaccine series completion was lowest in northeastern Wyoming, while highest in upstate New York, several areas of Pennsylvania, and in a San Francisco suburb.
Nationwide, 68.6% of infants completed the full rotavirus vaccine series, 15.9% completed only part of the series, and 15.5% received no rotavirus vaccine.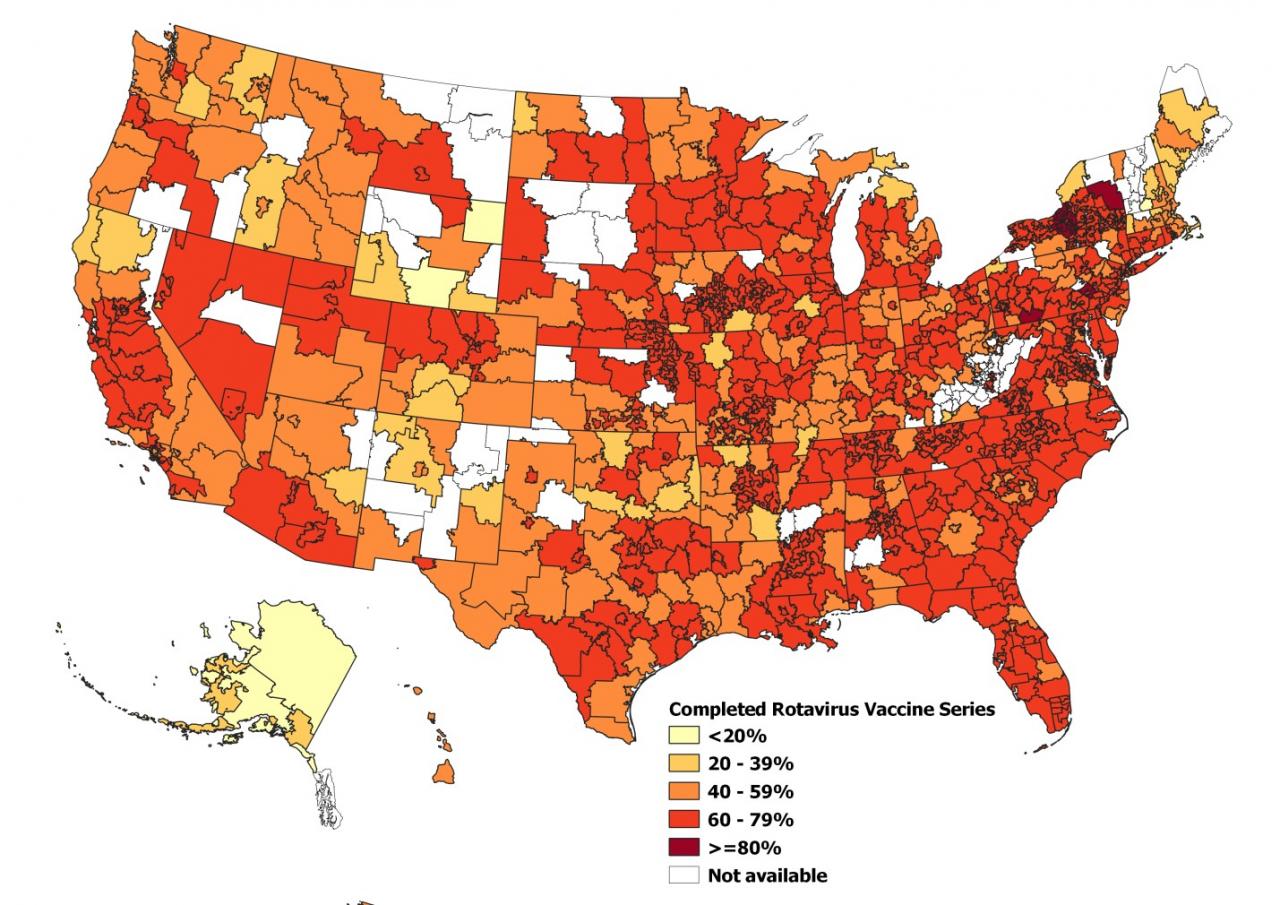 The study's authors, led by Mary Rogers, Ph.D., a University of Michigan epidemiologist and a member of the Institute for Healthcare Policy and Innovation (IHPI), recommend additional efforts at the local and county levels to address disparities in vaccination. Rogers' colleagues were Catherine Kim, M.D., M.P.H., also a member of IHPI, and Dr. Annika Hofstetter from Seattle Children's Research Institute.
The researchers examined rotavirus vaccination rates from 2010-2017 among 526,376 privately insured infants less than one year of age using de-identified data from Clinformatics Data Mart (Optum), a nationwide health database.
Rotavirus infection is most common among infants and young children, and can cause severe diarrhea, vomiting, fever, and abdominal pain.
Compared to other childhood vaccines, rotavirus vaccine has a remarkably narrow window during which it may be administered. The first dose should be given prior to 15 weeks of age, and all doses (either two or three for a complete series, depending on the product) should be completed before eight months of age.
The authors note that the proportion of infants who started but did not complete the vaccination series – nearly one in six – could be an indication of difficulty meeting these relatively narrow start- and end-date requirements.
Citation: Rogers M, Kim C, Hofstetter AM. Geospatial Variation in Rotavirus Vaccination in Infants, United States, 2010–2017. Emerging Infectious Diseases. 2019;25(10):1993-1995. doi:10.3201/eid2510.190874.