Prescribers have little guidance available on opioids, and overprescribing is a widespread problem that contributes to the opioid epidemic currently claiming 130 American lives every day.*
With up to 92% of patients having leftover opioids after common operations, millions of pills are left vulnerable to diversion into communities.**
February 2019
---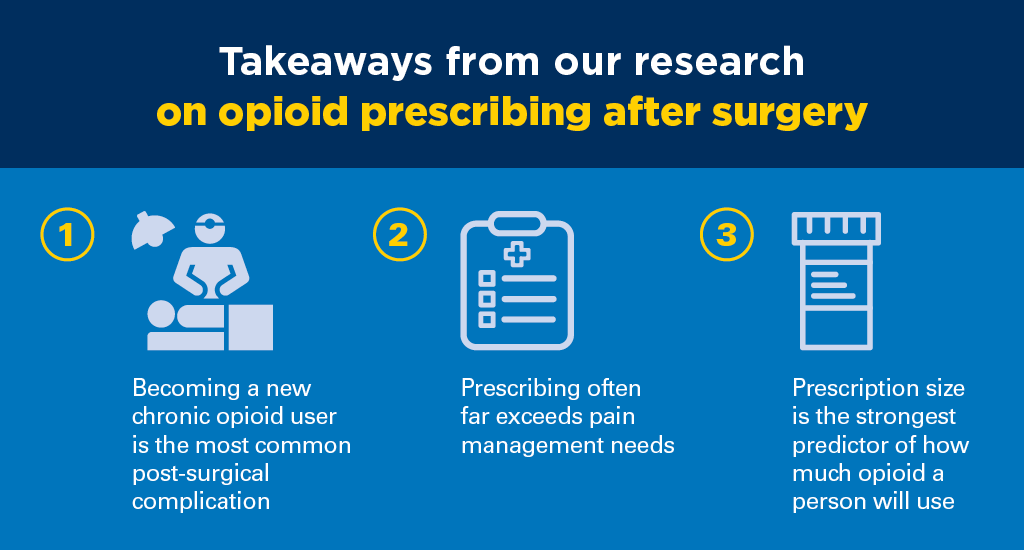 Of patients who had not filled an opioid prescription in the 11 months before surgery, 6% continue to use opioids more than 3 months after surgery.
Prior to implementing evidence-based recommendations, opioid prescribing for gallbladder removal surgery exceeded patient pain management needs by approximately 88%.
Patient-reported consumption increases by 50% for each additional pill prescribed.
---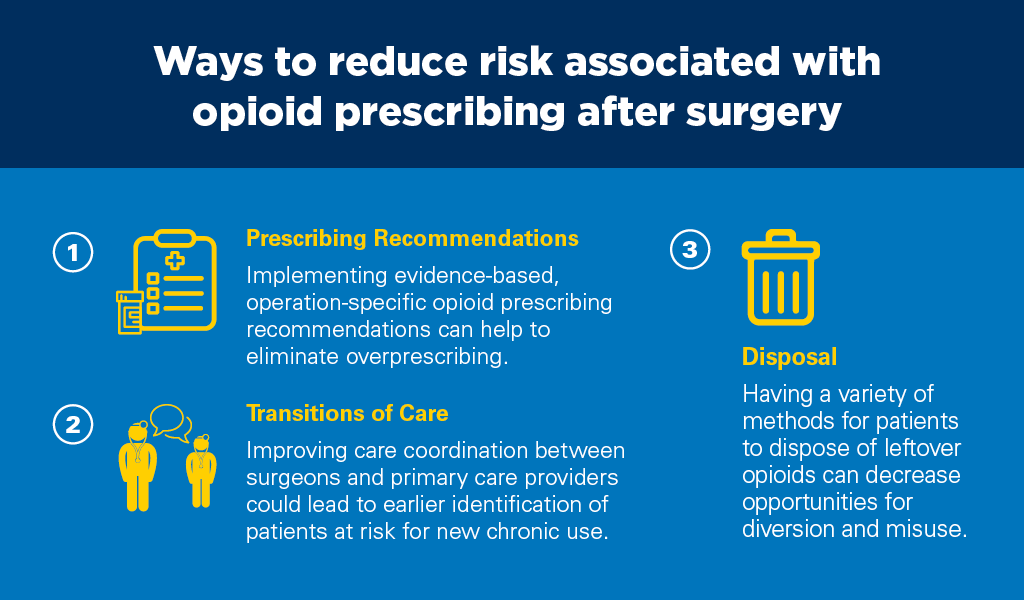 Prescribing Recommendations
Opioid prescribing for gallbladder removal patients decreased by 63% after the introduction of evidence-based guidelines with no increase in refill requests or decrease in patient satisfaction.
Transitions of Care
Improving care coordination between surgeons and primary care providers could lead to earlier identification of patients at risk for new chronic opioid use.
Disposal
Methods for patients to dispose of their leftover opioids can include:
Drug Enforcement Administration (DEA) registration for hospitals to accept medications for disposal
Provision of in-home disposal bags
Increase community-based medication take back drives.
---
Evidence-based policies are needed to improve opioid prescribing after surgery
Our research indicates that hospitals should develop protocols for opioid prescribing and disposal that include:
Adopting evidence-based, operation-specific opioid prescribing guidelines.
Standardizing the procedure for communication between surgeons and primary care providers to coordinate patients' pain management and better identify patients at risk for new persistent opioid use. This procedure should both identify the method of communication and assign responsibilities to the primary care provider and the surgeon.
Registering with the DEA to accept opioids for disposal to provide patients with more accessible methods for disposing of their unused medications.
*Opioid Overdose: Drug Overdose Deaths.Centers for Disease Control and Prevention. [updated 2018 Dec 19; cited 2019 Feb. 13]. Available from: www.cdc.gov/drugoverdose/data/ statedeaths.html
**Prescription opioid analgesics commonly unused after surgery: a systematic review. Bicket, M.C., Long, J.J., Pronovost, P.J., Alexander, G.C., Wu, C.L. (2017). JAMA Surgery, 152(11), 1066-1071. PMID: 28768328 doi:10.1001/jamasurg.2017. 0831
Download Michigan OPEN's procedure-specific prescribing recommendations
Studies on opioid prescribing after surgery by IHPI members
Association of opioid prescribing with opioid consumption after surgery in Michigan
Howard, R., Fry, B., Gunaseelan, V., Lee, J., Waljee, J., Brummett, C., Campbell, D., Seese, E., Englesbe, M., & Vu, J. (2018).
JAMA Surgery. PMID: 30422239 doi:10.1001/jamasurg.2018.4234
Spillover effect of evidence-based postoperative opioid prescribing
Howard, R., Alameddine, M., Klueh, M., Englesbe, M., Brummett, C., Waljee, J., Lee, J. (2018).
Journal of the American College of Surgeons, 227(3), 374-381. PMID: 30056059 doi:10.1016/j.jamcollsurg.2018.06.007
Patterns of initial opioid prescribing to opioid-naive patients
Larach, D.B., Waljee, J.F., Hu, H.M., Lee, J.S., Nalliah, R., Englesbe, M.J., Brummett, C.M. (2018).
Annals of Surgery. PMID: 30048311 doi:10.1097/SLA.0000000000002969. [Epub ahead of print]
Transitions of care for postoperative opioid prescribing in previously opioid-naive patients in the USA: A retrospective review
Klueh, M.P., Hu, H.M., Howard, R.A., Vu, J.V., Harbaugh, C.M., Lagisetty, P.A., Brummett, C.M., Englesbe, M.J., Waljee, J.F., & Lee, J.S. (2018).
Journal of General Internal Medicine, 33(10), 1685-1691. PMID: 29948809 doi:10.1007/s11606-018-4463-1.
Reduction in opioid prescribing through evidence-based prescribing guidelines
Howard, R., Waljee, J., Brummett, C., Englesbe, M.J., & Lee, J.S. (2018).
JAMA Surgery, 153(3), 285-287. PMID: 29214318 doi:10.1001/jamasurg.20174436
New persistent opioid use after minor and major surgical procedures in US adults
Brummett, C.M., Waljee, J.F., Goesling, J., Moser, S., Lin, P., Englesbe, M.J., Bohnert, A.S.B., & Nallamothu, B.K. (2017).
JAMA Surgery, 152(6):e170504. PMID: 28403427 doi:10.1001/jamasurg.2017.0504