While Michigan Medicine has been on the forefront of telehealth, the COVID-19 pandemic has caused the number of virtual care visits to skyrocket. Patients and clinicians describe why this model of care is likely to continue to flourish post-outbreak, especially for those who are high risk.
As her second pregnancy reached the halfway point, Kelly Paradis thought she knew what to expect. Then the COVID-19 pandemic hit. As case counts around the state began to rise, a simple routine trip to the doctor to check her and her unborn baby's health was no longer so simple. The risk of being exposed to COVID seemed too high.
"My OB asked if I wanted to come in and how I was doing and I said I did not and was doing fine," said Paradis. Instead, she and her doctor, Margaret Punch, M.D., of the Michigan Medicine Department of Obstetrics and Gynecology decided they would cancel or condense many of her upcoming appointments and switch to telehealth.
With guidance from the medical office, Paradis checked her blood pressure and weight at home and connected with Punch over a video visit. "The appointment was amazingly similar to doing it in person. In fact, I felt like I had more time to ask questions than I normally would," says Paradis.
She and thousands of other patients and providers have been suddenly thrust into telehealth in an unprecedented way, all due to the COVID-19 pandemic.
"During the month of February, Michigan Medicine conducted 444 video visits," says Punch, who is also medical director for virtual care. "In March, we completed over 6,800." That number more than doubled in April, with more than 20,000 visits completed through April 24th.
What's more, Michigan Medicine was recently awarded a federal grant of $649,000 to further expand their telehealth services in response to COVID-19. The Virtual Care team is working on implementing a process for physicians to broadly scale remote patient engagement and monitoring in support of helping patients manage their COVID symptoms at home, helping protect high-risk patients from exposure, and to monitor and stabilize patients remotely beyond the pandemic.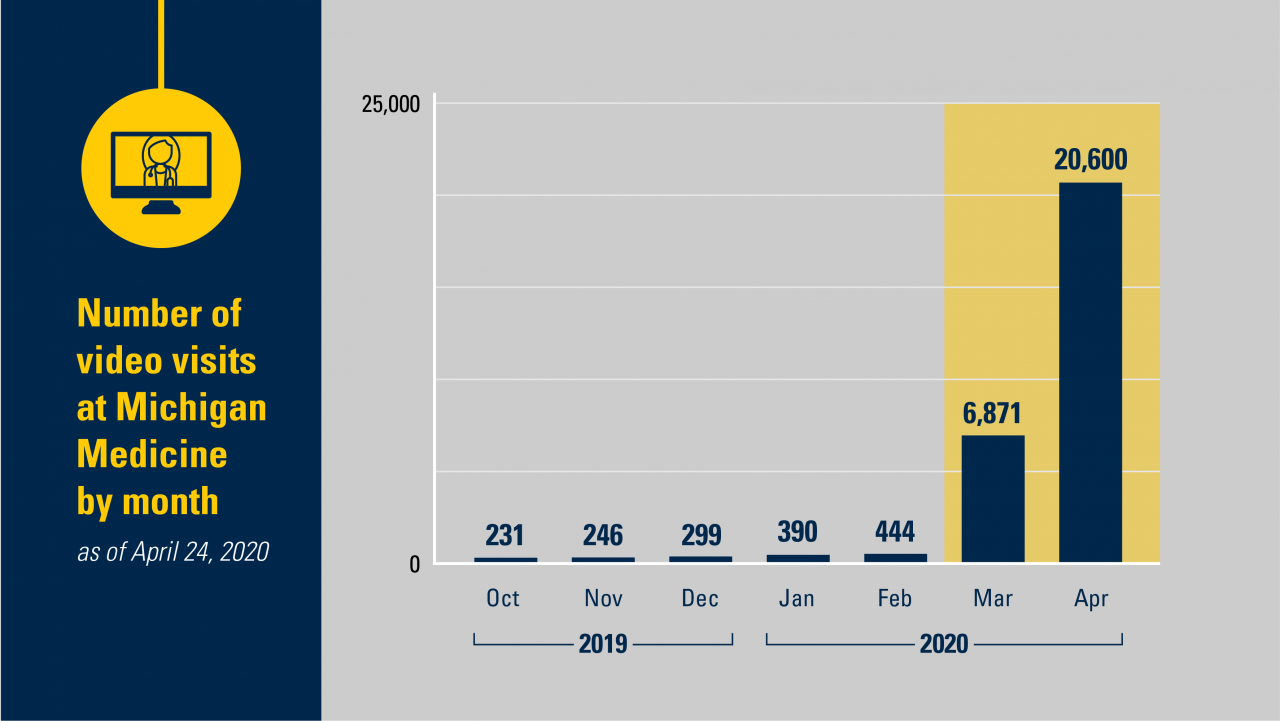 Graphic by Sophia Ng and Emily Smith
Up and running
Virtual care offerings are not new for Michigan Medicine. Video visits have been available to patients in a slowly increasing number of ambulatory clinics since 2016, and e-visits have been offered to primary care patients since 2017. The telestroke program, a partnership between Michigan Medicine and MidMichigan Health allowing geographically isolated patients to access stroke care, has similarly existed since 2016.
However, it took several key policy shifts made at the federal level in response to the pandemic to enable the recent rapid surge of telehealth.
"The number one thing that made it possible was making people's homes as a site where patients can connect and receive telemedicine," says Chad Ellimoottil, M.D., assistant professor at the University of Michigan and director of the U-M Institute for Healthcare Policy and Innovation's Telehealth Research Incubator.
Up until March 2020, the Medicare program did not allow patients to connect using their smart phones from home. As the pandemic began to unfold and shelter-in-place measures were instituted across the country, Medicare not only allowed patients to connect with clinicians from home, they also allowed the use of non-HIPAA compliant equipment and practice across state lines. Before these moves, providers couldn't be sure whether a patient would get stuck with a large bill for a telehealth visit, says Ellimoottil. Now, Medicare considers a video visit equivalent to an office visit.
With these barriers removed, Michigan's providers were able to respond to the rapidly-growing interest in telehealth visits by streamlining operations and quickly training more providers. According to Punch, more than 1,800 providers have been trained to provide video visits so far, with more being trained on an ongoing basis. The virtual care team continues to monitor activity and make recommendations on how to best space out appointments and avoid overloading systems.
Even clinicians who may have been resistant to change in the past have been surprised at the convenience of telehealth. "I think that's one of the silver linings that will come out of this pandemic, that almost every practice will dramatically expand its video visit capabilities, to the tremendous benefit of our patients," comments William Chey, M.D., of the Michigan Medicine gastroenterology clinic in a recent Healio video on telehealth.
The bulk of the visits conducted thus far at U-M have been internal medicine-related, all 70 specialties at Michigan Medicine have seen an increase. "Nearly every service line offers some type of virtual or video option," Punch says.
Virtual care offerings currently in use at Michigan Medicine include:
E-visits, where a patient fills out a questionnaire and receives a written treatment plan
E-consults, where a primary care provider and another provider, typically a specialist, consult regarding a specific patient/condition
Tele-specialty consults, conducted between Michigan Medicine providers and affiliates/partners to coordinate patient care; and
Video visits, involving two-way audiovisual communication between a patient and a Michigan Medicine provider.
The COVID-spurred move to telemedicine will also provide an unexpected boost to ongoing research by Ellimoottil and his team to study the impact of telehealth on health outcomes, cost and quality of care. "Not only is this pandemic period uncovering new knowledge gaps, it's giving us the ability to assess the existing knowledge gaps in a more robust way," like the effect of telehealth on health disparities, says Ellimoottil.
Meanwhile, virtual care is offering patients some degree of peace of mind during an anxiety-ridden period.
"The current climate may have inspired people to adopt these options faster than they may have otherwise, but we believe that our patients will see the advantages of virtual care and video visits," says Punch. "We're able to offer more patients more access to treatment, and we look forward to continuing to improve and expand their options."
More Information: