A multidisciplinary U-M team, in partnership with the Michigan Department of Health and Human Services, developed a series of COVID-19 data tracking tools to inform public health responses in Michigan throughout the pandemic.
Tracking COVID-19 in Michigan: Online Tools to Support Data-Driven Public Health Responses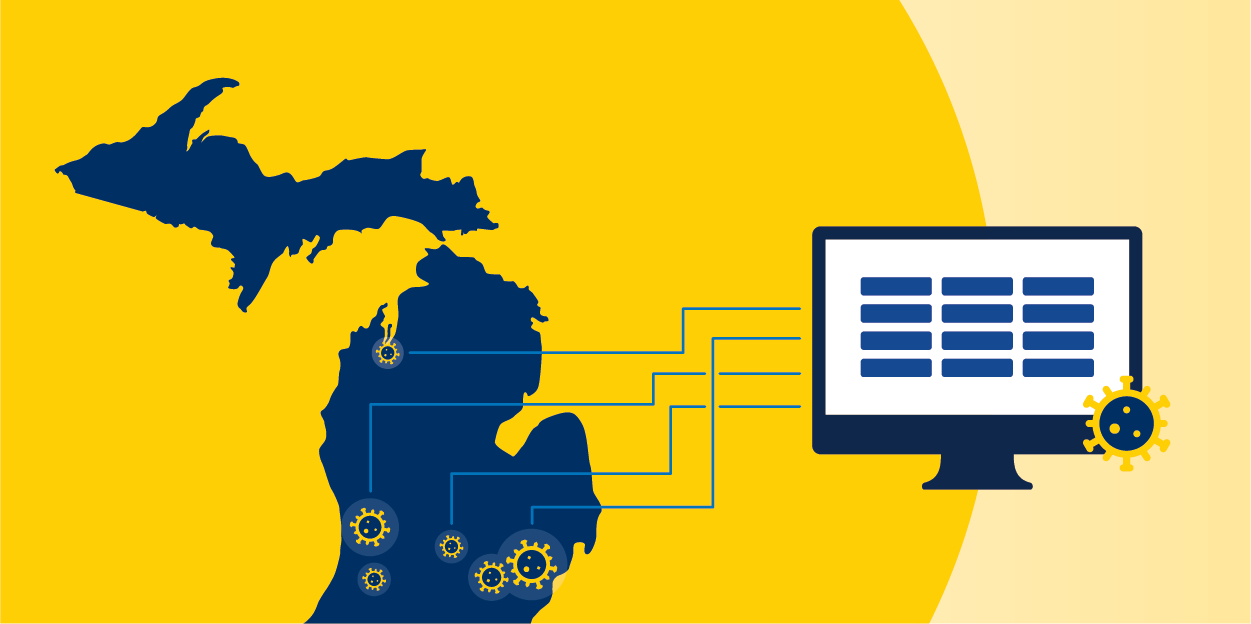 Since the earliest days of the COVID-19 pandemic, a multidisciplinary team of experts from the University of Michigan have been working in partnership with the Michigan departments of Health and Human Services and of Labor and Economic Opportunity to develop and widely share online COVID-19 tracking tools so public health officials, employers, organizations, and residents across the state have important, up-to-date information about the pandemic status of their communities.
The two public-facing tools — MI Safe Start Map and MI Symptoms — were launched in May 2020. MI Safe Start Map focuses on visually illustrating COVID-19 risks and trends across the state using graphs and other data snapshots. The MI Symptoms web app enables organizations and businesses to screen their members for COVID-19 symptoms. A third tool, MI Lighthouse, was launched in April 2021 to provide authorized state and local health officials with high-resolution vaccine data.
These three tools use a precision population health approach that combines timely COVID-19 data, key public health indicators, and user-friendly technology. Each serves an important role in encouraging data-driven public health decisions to protect the lives and livelihoods of Michiganders throughout the pandemic.
MI Safe Start Map
MI Safe Start Map is a public dashboard designed to track and display the current COVID-19 risk level of Michigan regions and counties to assist with public health response efforts. The dashboard monitors the status of COVID-19 indicators across the state, aids local and state officials in making public health decisions, and provides the general public with insight into some of the indicators that affect these decisions.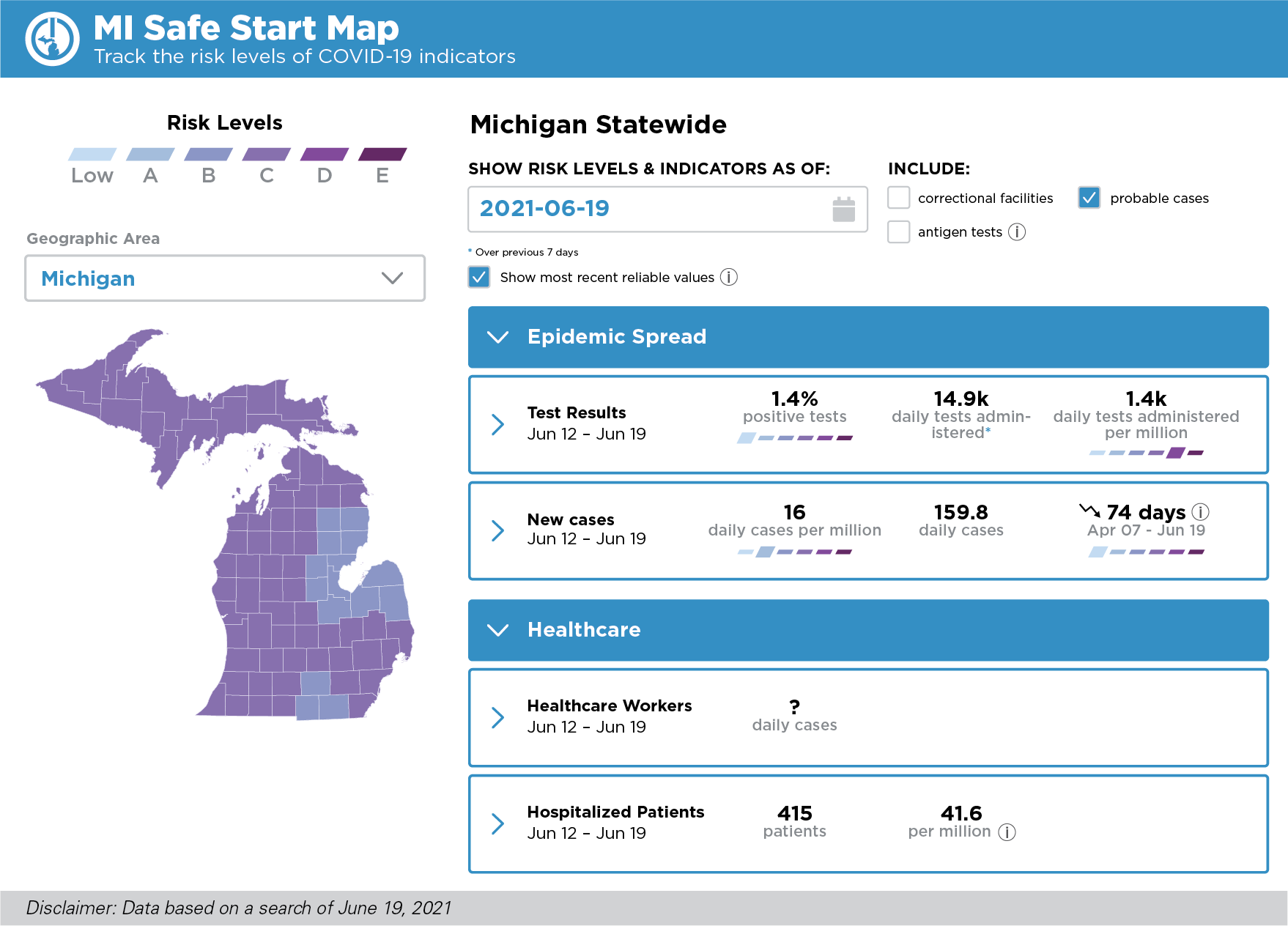 USERS: State, regional, county, and city public health officials, school districts, court systems, community leaders, and the general public.
FEATURES: Visually illustrates up-to-date COVID-19 risk levels and key data from the Michigan Disease Surveillance System and the Michigan Department of Health and Human Services, including numbers of new cases, hospitalizations, deaths, and test positivity at the statewide, regional, and county level. The information is displayed using:
A grading system to indicate COVID risk levels by county and region. Grades range from "Low" as the lowest level of risk to "E" being the highest.

A color-coded state map which highlights where the coronavirus is most active and under control.

A compare page to see how each county ranks against other Michigan counties.

A visual display of the status of COVID-19 health disparities across the state.
IMPACT:
Policy Impact: Provides risk and capacity indicators that are taken into consideration during the implementation of state, local, and institutional public health measures and phased plans to broadly re-engage the economy.
Public Impact: Accessed over 1.8 million times since its launch in May 2020 through July 2021.
IMPLICATIONS:
By proactively and transparently sharing up-to-date data on the pandemic status across the state, the MI Safe Start Map empowers the public with the information they need to adopt protective behaviors and reduce confusion.
For more information, contact covid-dashboard@umich.edu
MI Lighthouse
MI Lighthouse is a private dashboard designed to provide authorized state and local public health officials with access to high-resolution vaccine data to assist with outbreak investigations and resource allocation decisions.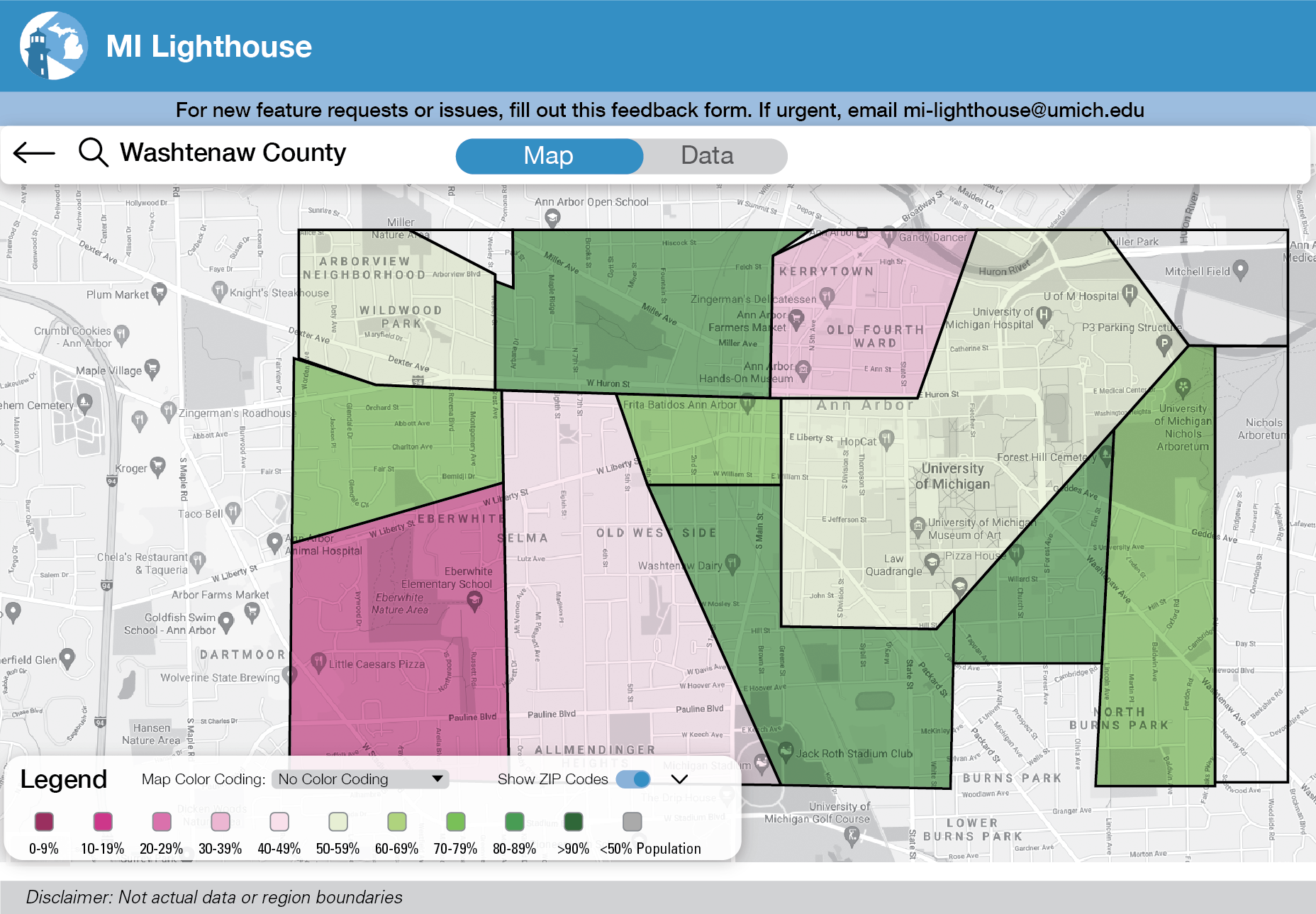 USERS: Authorized users only — state, regional, and county public health officials.
FEATURES:
Informs rapid response and targeted vaccination campaigns by identifying micro-level patterns of vaccine uptake.

Supports analyses of vaccine providers and uptake patterns for individual health departments.

Tracks race, age, gender, and location metrics to help identify disparities in COVID-19 impact and vaccination rates.
IMPACT:
The tool is being used by the Michigan Department of Health and Human Services and health departments representing 82 counties in Michigan.

Health departments have reported that using the tool has informed their vaccine clinic planning as well as community outreach and communication strategies.
IMPLICATIONS:
Provides key data to track local progress toward state benchmarks for vaccination rates, informing Michigan's efforts to fully reopen its economy.

Helps public health officials better understand neighborhood-level disparities in COVID-19 vaccine uptake.
For more information, contact mi-lighthouse@umich.edu
MI Symptoms
UPDATE: The MI Symptoms app will discontinue service as of 1/31/22. 
MI Symptoms is a free web app built to help Michigan organizations and businesses screen their members for COVID-19 symptoms. The app helped employers seamlessly fulfill the state's employer entry screening requirement while it was mandatory and continues to be used by many organizations today.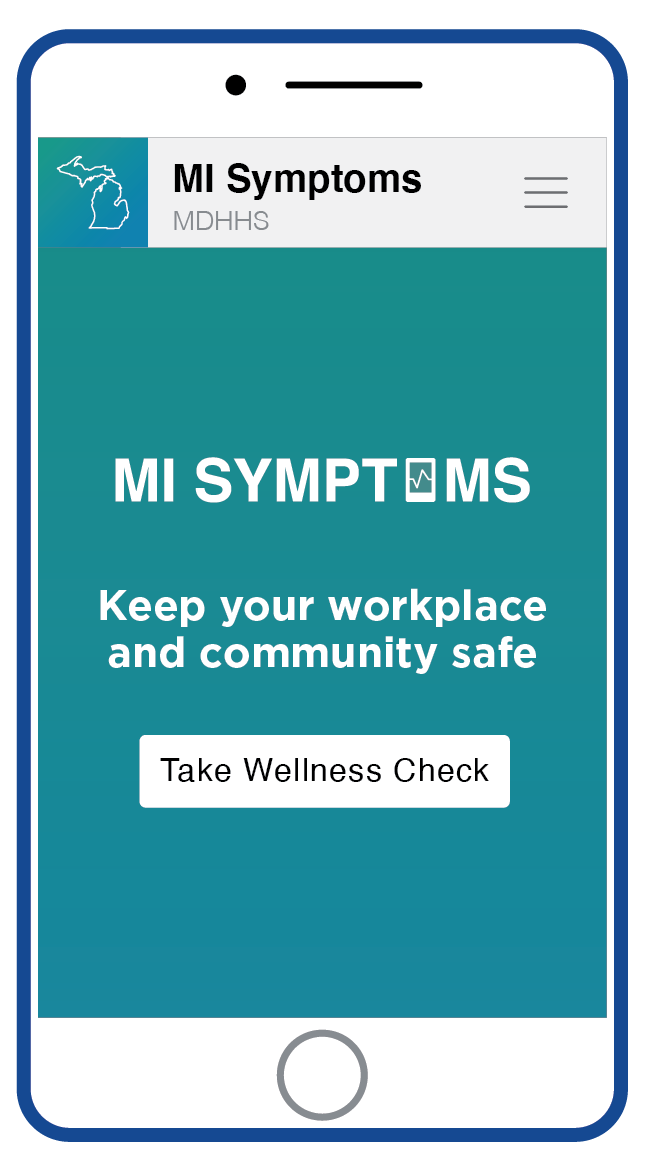 USERS: Employers, small businesses, schools, sports teams, hospitals, long-term care facilities, other community organizations.
FEATURES:
After registering for MI Symptoms, employers and organizational leaders send their members a code to begin reporting symptoms via a short survey.

Leaders can then access a real-time view of their organization's symptom survey results.

Available in English, Spanish and Arabic.

Easily accessible by both mobile phone and desktop devices.

Built with security and privacy in mind; unlike some other COVID-tracking apps, it does not use Bluetooth or track users' locations.

Automatically sends guidance to those who report symptoms of the virus, such as quarantine recommendations and contact details for the health department and testing centers.

The data is used anonymously to create regional symptom maps that are shared with public health officials.
IMPACT:
As of July 2021, the symptom tracker surpassed 4.9 million entries and received more than 20,000 submissions per weekday, with consistent engagement among 100,000 users.
IMPLICATIONS:
Helps businesses and organizations open and operate safely with simple compliance measures.

Allows public health officials to identify potential COVID-19 hotspots up to 2–5 days sooner than through using clinical testing alone.
For more information, contact MISymptomsHelp@umich.edu
Informing Responses to the Evolving Pandemic & Future Directions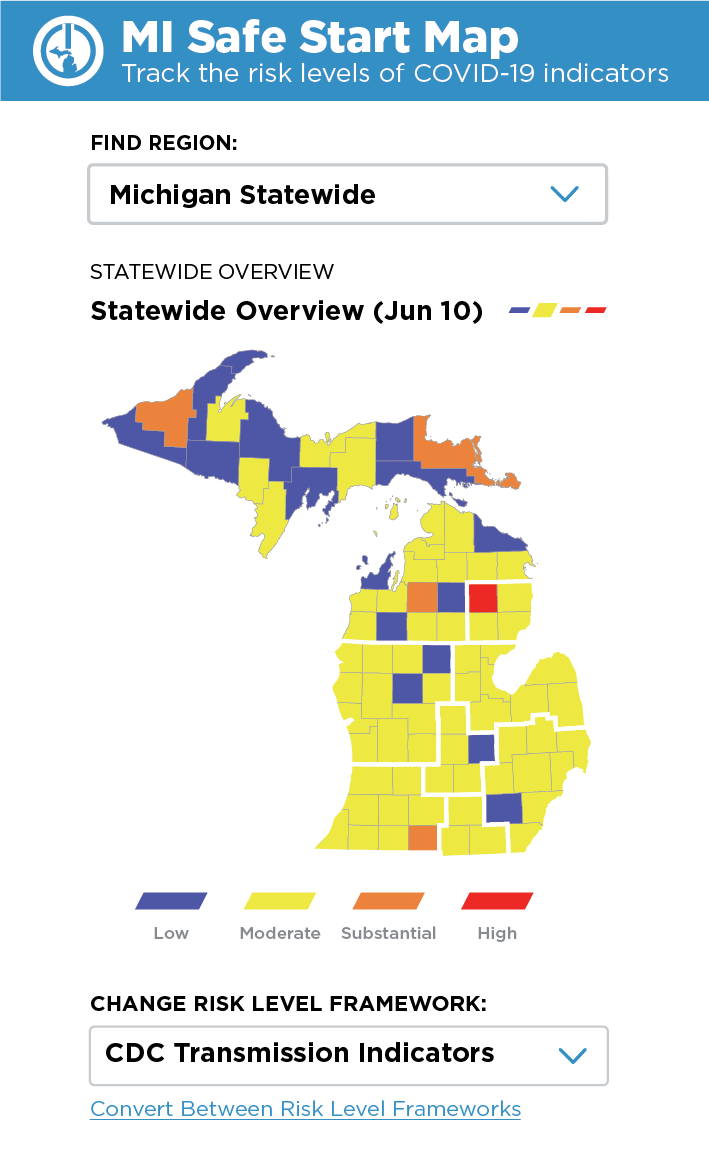 Tools to Support School Reopening and Planning:
The Centers for Disease Control and Prevention (CDC) has made recommendations based on the level of disease in each community. In August 2021, the team added color-coded CDC transmission levels to MI Safe Start Map to help K-12 schools follow CDC guidance.
Visualizations for Decision Making :
The team plans to create additional online tools and infographics to support decision makers in understanding key public health concepts as the pandemic evolves.
A Framework for Other States, Future Pandemic Preparedness:
The team plans to create a publicly available roadmap and toolkit to support implementation of these tools in other communities and states and for other applications, including toxic environmental exposures and preparing for future infectious disease outbreaks.
TEAM
Emily Martin, Ph.D., M.P.H.1,3; Marisa Eisenberg, Ph.D.1,3; Sharon Kardia, Ph.D.1; Paul Resnick, Ph.D.2; Michael Hess, M.S.I.2; Kirtana Choragudi2; Michael Hayashi, Ph.D.1; Joshua Petrie, Ph.D., M.P.H.1,3; Jon Zelner, Ph.D.1
1 Department of Epidemiology, University of Michigan School of Public Health, 2 University of Michigan School of Information, 3 University of Michigan Institute for Healthcare Policy & Innovation
ACKNOWLEDGMENTS
The research team thanks the many U-M student, staff, and faculty volunteers that supported this pandemic response.
Emily Martin, Ph.D., M.P.H., was a recipient of the 2020 IHPI Policy Impact Award for her data-driven approach to informing the state of Michigan and U-M's response to the COVID-19 pandemic, as well as her efforts to communicate the science behind the virus, vaccines, and public health measures to diverse audiences nationwide.
FOR MORE INFORMATION
Please contact Eileen Kostanecki, IHPI's Director of Policy Engagement & External Relations, at ekostan@umich.edu.