U-M Health Lab
Falls among middle-aged people are an underreported issue, U-M researchers say. Now, they're probing the connection between falling and poor vision as a way to prevent injury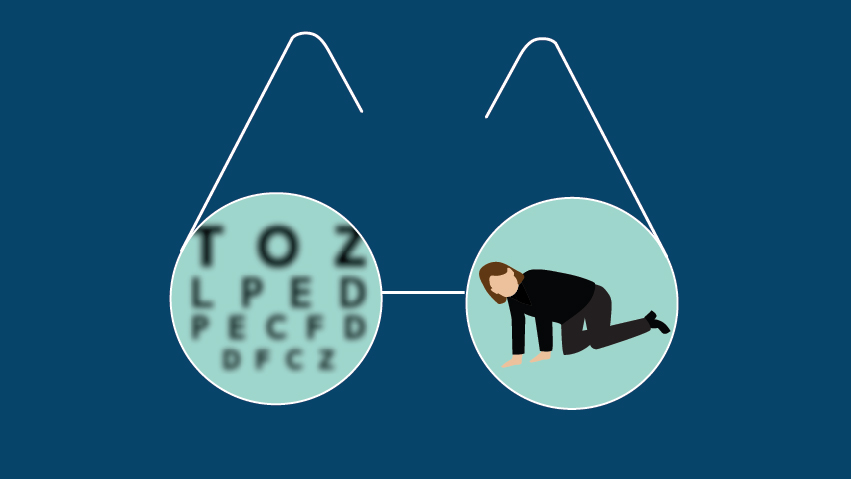 Falls are a major public health issue because of the burden and costs of helping people recover.
But, despite the preconceived notion, researchers at the University of Michigan contend that the problem of falling is not unique to older adults.
"Do we hit the magic number of 65 years old and suddenly become at risk for falls, whereas we are somehow immune before that?" asks Carrie Karvonen-Gutierrez, Ph.D., MPH, an assistant professor at the U-M School of Public Health.
In fact, one study found that in the past year, about 1 in 10 adults in their 40s and 50s had a serious fall — reflecting the estimates among the frail, older adults most often considered at risk for falling at home or in public.
With their personal and professional experiences in mind, U-M researchers set out to determine the relationship between vision, physical functioning and falls in middle age.
First, to determine the incidence of vision programs in middle age, U-M epidemiology expert, IHPI member, and professor of obstetrics and gynecology Sioban D. Harlow, Ph.D., tapped data from the population-based Michigan SWAN study (Study of Women's Health Across the Nation) she leads.
For more than two decades, SWAN has collected information from a group of 543 midlife women about their visual acuity, physical functioning, menopausal status and hormone levels.
"This level of burden clearly caught our attention and prompted us to consider how these two conditions, vision impairment and falls, both underappreciated in importance for midlife populations, may be related," says Suja Kumar, MBBS, MPH, who worked with Harlow and Karvonen-Gutierrez during her master's degree work and is now a postdoctoral fellow at U-M.
Featured IHPI Members