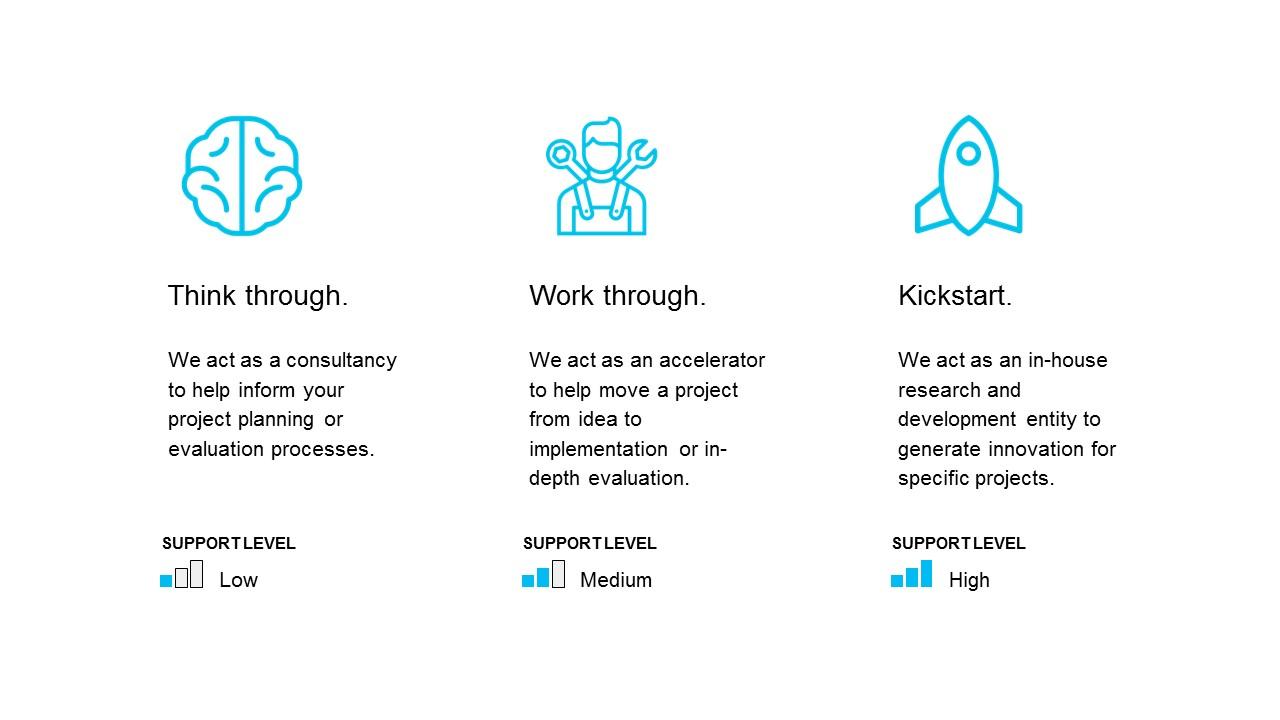 As we work with our operational partners, we cycle through three key phases of project work: Discovery and Definition, Development, and Delivery.
Project Discovery and Definition
We get ideas from diverse stakeholders and teams throughout Michigan Medicine and IHPI who request to collaborate with us. We also use our deep knowledge of the health system to self-generate projects to measure and improve appropriateness. We evaluate project details, potential impact, level of readiness, resource needs, and time frame to determine project appropriateness and our engagement. We also provide resources and facilitate connections for projects that might be best served by other groups.
Project Development
Once evaluated the projects may be placed into one of three tracks for our engagement (see above). After determining project support level, we also categorize whether the project is an evaluation, measurement, or improvement project. This helps us clarify what steps need to be taken and set expectations for deliverables. We work with our operational partners to make sure appropriate data is available and resources are in place for data management. Before we officially begin a project, we work with our operational partner to create an agreement on the scope of the work. Once that's signed by the collaborating project leads, we start project delivery.
Project Delivery
In the project delivery phase, we begin to work on evaluation, measurement, or improvement of appropriateness of care. We evaluate quality improvement projects that aim to improve the value of care at Michigan Medicine. We measure the value of care provided at Michigan Medicine in particular clinical areas to guide leadership in areas for future interventions. We support the implementation of projects that improve value of care, initiatives that influence policy change at various levels or helps clinicians disseminate academic publications.  
Example Projects
Imaging Right Care Report: The Imaging Right Care Report measures the current state of imaging appropriateness throughout Michigan Medicine to assist in developing institutional priorities around improving appropriateness of advances imaging. 
Reducing Unnecessary Vitamin D Tests: The Vitamin D Project evaluates the effectiveness of a Michigan Medicine initiative to decrease the inappropriate use of Vitamin D testing for outpatients.