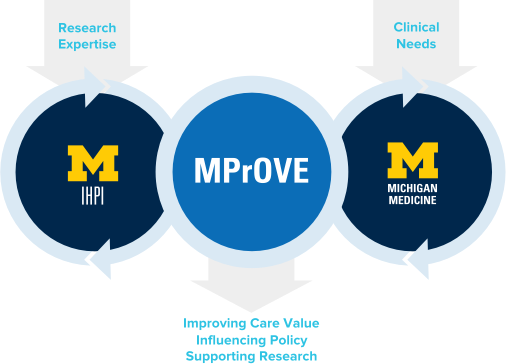 Due to the institution of alternative payment models with a focus on value-based payments, healthcare delivery systems across the country will need to accelerate efforts in delivering patient-centered and clinically effective care while also holding themselves – and each of their clinicians – accountable for the quality, appropriateness and costs of care delivered.  
To meet this transformational challenge, academic health systems across the country have tapped the power of their research enterprises by funding "R&D" centers to accelerate innovation in value within their organizations. None, however, has the support of a resource as strong, dynamic, or interdisciplinary as IHPI. The institute brings together experts from U-M's top-ranked schools of medicine, nursing, public health, engineering, social work, law, business, art & design, and public policy, among others, to address healthcare's biggest challenges.  
MPrOVE creates an important bridge between IHPI and Michigan Medicine by leveraging the extraordinary human resources within both entities to improve appropriateness, outcomes, costs, and patient experiences at Michigan Medicine. MPrOVE's efforts focus on assessment and enhancement of optimal care by improving the appropriateness of clinical services, concentrating on common and costly areas in which both underuse and overuse are frequent. While there are many current efforts within Michigan Medicine focused on improving care, MPrOVE also focuses on proving, through rigorous evaluations, whether these interventions are effective; and on innovating, by systematically engaging stakeholders in flexible and rapid intervention testing that uses the principles of design thinking.