Michigan Medicine
New access to an evidence-based guide to vascular access devices could change bedside decisions — and boost patient safety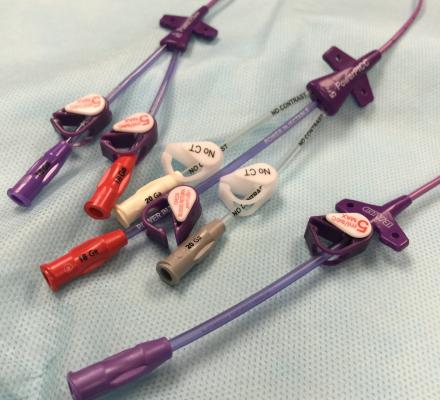 More than a million times a year, doctors and nurses insert tiny tubes into the veins of American hospital patients to deliver lifesaving medicines, give fluids and nutrition and monitor key vital signs.
The devices, used for ongoing vascular access, help patients with conditions ranging from cancer and pain to serious infections. 
But these devices carry risks as well as benefits — especially peripherally inserted central catheters (PICCs), which are designed to stay in the body for days or weeks.PICCs tunnel deep into the bloodstream, providing a gateway for microbes and a place for dangerous clots to form. 
Yet despite the widespread and rapidly growing use of such devices, doctors and nurses have only recently had an evidence-based guide for choosing which kind of device to use, in which patient, for the best and safest result — and which to avoid at all costs. 
A team at the University of Michigan and VA Ann Arbor Healthcare System created the guide, called the Michigan Appropriateness Guide for Intravenous Catheters (MAGIC). Two years ago, they published it for all to use, and created ImprovePICC.comas a one-stop resource on the latest recommendations for clinicians.
Now, it's available as a free smartphone app for both Apple iOS and Android devices, helping clinicians at the point of care choose among intravenous or vascular access devices of all kinds. 
Creating MAGIC
"These devices have become especially convenient to place, and their use has gone up dramatically — as have rates of complications," Vineet Chopra, M.D., M.Sc., who spearheaded the MAGIC effort, says. "This app will make it even easier for clinicians to know when the use of a PICC is appropriate, and when other choices are the best."
PICCs and other such devices are commonly used by clinicians in many fields, from vascular nursing, anesthesiology and radiology, to critical care, hospital medicine, infectious disease and oncology.
The MAGIC guide grew out of top international experts across these fields, an evidence review and research at the U-M/VA Patient Safety Enhancement Program that revealed the hazards of some PICC use.  
Criteria are based on experts' review of more than 600 scenarios of different kinds of patient and treatments. The system is being tested in the 47 Michigan hospitals taking part in a patient safety project, the Michigan Hospital Medicine Safety Consortium. 
Previously, data from the consortium revealed huge variation between hospitals' use of IV devices for the same conditions. Evidence from this collaborative effort also shows that patients with PICCs frequently face a risk of deep vein thrombosis.  
Going forward, the U-M/VA team will test ways to deploy MAGIC across the Veterans Affairs health system, working with the VA National Center for Patient Safety and the No Preventable Harms Campaign. The Infusion Nursing Society also updated its standards to incorporate changes based on MAGIC's recommendations.
"IV devices of all kinds are being put into patients without much thought about risks, benefits or alternatives. At the end of the day, MAGIC gives providers the information they need to make a good decision for their patient, one that will render these devices appropriate and safe," says Chopra, a professor and chief of the new Division of Hospital Medicine in the Department of Internal Medicine at Michigan Medicine, the U-M academic medical center.
The work is supported by the Society of Hospital Medicine, the Agency for Healthcare Research and Quality and Blue Cross Blue Shield of Michigan, which funds the Michigan Hospital Medicine Safety Consortium. 
Featured IHPI Members