Training to Advance Care Through Implementation Science in Cardiac And Lung Illnesses
Submitted by camillic on Fri, 04/28/2017 - 9:24am
Vision of Success
Training to Advance Care Through Implementation Science in Cardiac And Lung Illnesses (TACTICAL) will provide 5 post-doctoral scholars a structured 3-year program of career development. Afterwards, as part of independent research careers focused on bringing evidence-based best practices to improve critically ill patients' lives, TACTICAL scholars will become independently-funded leaders who both drive change at their own institutions while also developing and evaluating better approaches for driving change nationally and internationally. 
Program Summary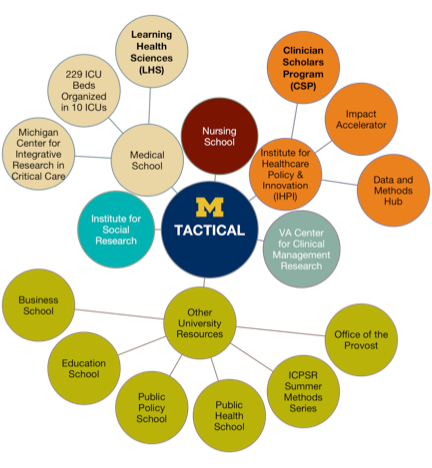 A 3 year training program will combine elements of the best of the University of Michigan:
Program Timeline
The first cohort of scholars will begin July 2018, a second cohort starting July 2019. 
Program Leadership
The program is jointly led by Theodore "Jack" Iwashyna, M.D., Ph.D., and Anne Sales, Ph.D., R.N., with broad support around the campus.
Who Should Join
TACTICAL scholars will be a mix of physicians, nurses, pharmacists, and PhDs with clinically relevant backgrounds (e.g. informatics, engineering, learning health sciences). Our modal candidate will have just completed their clinical and initial research training, and be ready to begin their first faculty position. We also believe, in select situations, more mature practitioners who are changing the direction of their career towards still several decades of independently funded research in implementation science might be appropriate, assuming they had sufficient commitment to our vision of success. These candidates will have a modest initial track record of peer-reviewed original research publications—at least 3-5—and substantial demonstrated aptitude for and commitment to research.
Metrics of Success
The program's primary short-term metric of success is the fraction of TACTICAL Scholars who win independent federal investigator-initiated research grants (particularly R-01's) and win jobs doing innovative implementation science in critical care of cardiac and lung illnesses. 
How to Apply
Applications will be accepted on a rolling basis, beginning August 1. We encourage applicants to submit as soon as possible. We anticipate making first offers as early as November for matriculation the following July; that is, in November 2017 we will begin making offers for the July 2018 cohort, and continue interviewing until the cohort is filled. Additional applications will be considered for the next cohort.
We actively seek a diverse cohort as we believe this will make TACTICAL more effective. The University of Michigan, as an equal opportunity/affirmative action employer, complies with all applicable federal and state laws regarding nondiscrimination and affirmative action. The University of Michigan is committed to a policy of equal opportunity for all persons and does not discriminate on the basis of race, color, national origin, age, marital status, sex, sexual orientation, gender identity, gender expression, disability, religion, height, weight, or Veteran status in employment, educational programs and activities, and admissions.
If you would like a copy of our original K12 proposal to NHLBI in order to help formulate your application, please email Molly Martin for a copy.
The following information will be necessary for the application page.  Applications cannot be saved "in process", and so this must all be collected in advance:
1. An academic C.V.  If you do not have one already prepared, the University of Michigan guidelines on preparing a C.V. can be a useful model: http://faculty.medicine.umich.edu/appointments-promotions/packet-items/cv
2. Your top 3 areas of research interest in critical illness.
3. Personal Statement: In no more than 1,000 words, describe why you are interested in TACTICAL, including:
Previous work and research experience
Relevant leadership and service experience
What do you wish to achieve?
What are your career aspirations?
In no more than 500 words, please describe an implementation science problem in critical care on which you might focus.  Please briefly describe the evidence base for this problem, and why it is an implementation science problem.
4. References - Please provide the name, title, institution, capacity in which they know you, phone number, and email address of 3 potential references by former faculty, supervisors, or other relevant referees to whom we may reach out regarding your aptitude and appropriateness for the TACTICAL program.
5. We will acknowledge receipt of your completed application within 2 weeks, and select applicants will be invited to the Michigan campus for a day of interviews.
When you are ready to submit, please CLICK HERE to go to the form.